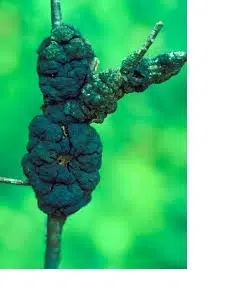 The Regional Municipality of Wood Buffalo is working to remove an air-borne fungus that's infecting hundreds of trees in Fort McMurray.
Black Knot Disease, which looks like lumps of black coal that wraps around twigs and branches, dwarfs and misshapes trees making them stressed and unhealthy.
"It's a spore that travels around in the wind, it might come from your neighbor's yard, it just lands on your tree. It will cause your tree to get some difference in the growth, after a couple of years it will turn into these hard black knots," Arborist Farrah Terpstra tells Mix News.
Terpstra says the fungus started to show up in the region about five years ago. They predict up to 700 trees are now infected in Fort McMurray.
She adds cherry and plum trees are most susceptible to the disease.
"In town, we have lots of those Shubert Choke Cherry's. Those are the trees with the purple leaves and the beautiful pink flowers in the summer. We also have lots of Pincherrys around town. They actually grow naturally, people have also planted them in their yards. You can find them on Macdonald Island, or up in Abasand or at the top of Golf Course Hill."
In order to get rid of the fungus, you have to prune your tree at least six to eight inches below the knot or to the joint below the knot.
Terpstra notes the best time to do this is in winter, late fall or early spring.
"Right now is an excellent time. Part of the thing with now is that can actually see them, the leaves aren't blocking your view of the knots on the tree. It also means you don't have to smell the smell of the fungus knots. The knots smell like a combination of dog feces and mushrooms."
Terpstra says when you remove the infected branches, don't leave them in your yard or put them in the compost or curbside yard waste pickup. The best way to dispose of the branches is put them in the regular waste at the dump or cut them up and put them in the garbage.
More information on the Black Knot Disease and how to get rid of it, visit the RMWB's website.