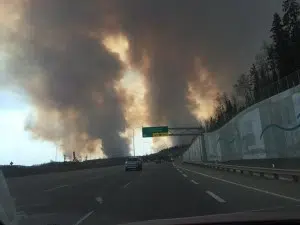 The recent warm spell and the upcoming start to the wildfire season has some worried about the possibility of another wildfire in the area.
Wildfire Information Officer Jim Kerr tells Mix News residents don't have to worry.
"We have crews, firefighters on staff year-round, positioned across the province that are prepared to fight any fires that pop up and we have all the resources once fire season begins."
He adds it's still too far out to fully understand what the season will be like once the warmer months hit. But, he's encouraging residents that the chances of a wildfire happening right now are low.
"It's been warm in many areas of the province, but it is still winter so they're is still a ways to go here," added Kerr. "It depends on how the rest of the winter goes and how much rain we get during the spring months and as we get closer to that we'll get a much better idea of what the season is going to look like."
As for the Horse River wildfire, it's technically still active as the province wants to wait until after the winter to make sure all hot spots are put out. Kerr says if any spots are still active, they would be out in the wooded areas far from the community.
The expectation is to officially have the fire put out sometime in the spring.