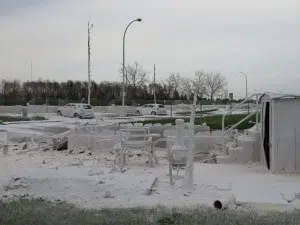 As the rebuild starts to gain speed, we already have a few homes fully built.
On Wednesday night, during the recovery committee meeting, Member Kim Jenkins said 19 homes were completely built with families living in them.
Chair of the Committee Jeanette Bancarz tells Mix News these homeowners were thinking and preparing for their rebuild during the evacuation.
"Those people that are in their home started moving forward even in May, they were already thinking about rebuild, they were already making their plans in place, so I just encourage all of our residents to just move ahead and make your plans now and start taking those steps.
She notes they expect more homes to be fully complete week after week.
The RMWB were also anticipating many homes to get a quick start. Adam Hardiman with the Wood Buffalo Task Force says they were aware residents wanted to rebuild as soon as they got back.
"Probably June 1 or 2 at one of the Information Centres, there was a gentleman who came to the information Centre and had his blueprint under his arm, he was that ready to go."
He adds he's been in talks with the Canadian Red Cross who say we are ahead of schedule.
Right now, there are over 450 development permits, 600 dwellings and 250 basements poured and expected.