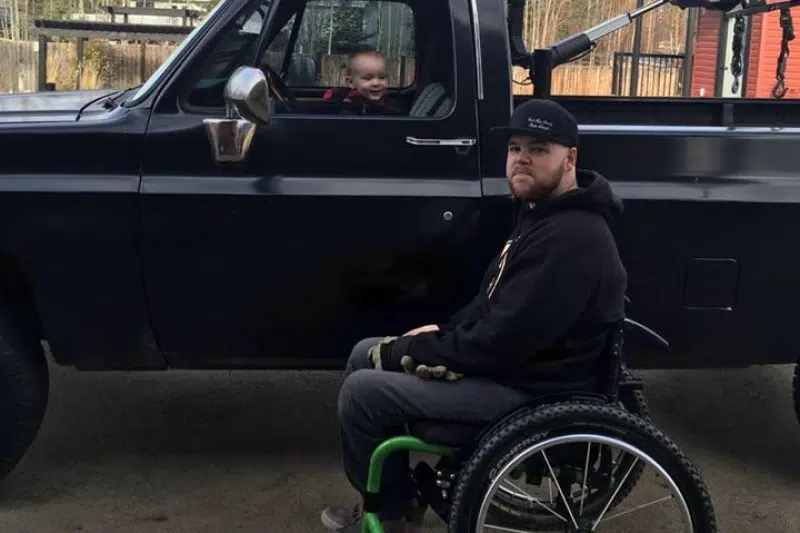 A Fort McMurray man is asking for your help to afford a new special treatment.
Back in 2014, Brandon Adams became paralyzed from the waist down after an ATV accident. Fast forward to earlier this week as he's been accepted for a highly expensive treatment in Bangkok, Thailand.
He tells Mix News the treatment would potentially allow his brain to communicate once again with his lower body.
"More or less, the tens unit they implant inside you, on your back, will allow your brain to talk to the lower extremities and kind of bridges the gap. Right off the hop, they're showing, so far, 100 per cent success rate on lowering your lower extremities, like as soon as it's turned on."
He adds the procedure won't fully heal his lower body but he's hoping he can once again "lift himself into his own truck."
"If I'm successful raising all the funds to get there, I will be the lowest level of injury they've done," added Adams. "So, everybody is going to be reacting differently based on injury and how much work they put in."
According to Adams, the program is looking for a so-called "guinea pig" to test on someone whose break is so low on their back. He notes he's ready to be that subject but he needs help getting there.
The entire procedure, not including flights or accommodations for his fiancé or daughter, is around $123,000.
He's since set up a Go Fund Me page in the hopes of raising the money.