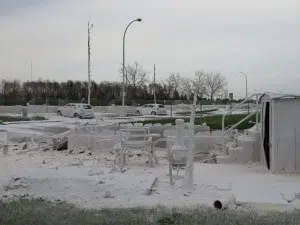 Many residents whose homes were part of the firebreak will receive letters to confirm compensation to settle additional fees they had to pay.
The firebreak included the destruction of homes, garages, fences and decks to prevent the wildfire from spreading.
Letters will be sent to the property owners in early February. This will account for the fees the individuals had to face at the landfill.
"Rather than taking ash and debris to the landfill they were physically taking walls, rafters those types of things," said Erin O'Neill, Operations Manager with the Task Force.
However, only 56 of the 83 properties affected will get the additional money. These owners avoided the costs as the municipality cleared the property, mostly due to the deadline they set out back in September.
For those who did pay the landfill fees, the municipality will pay you back at the current rate:
Homes and Garages – $15,000
Home – $12,000
Garage – $3,000
Fence – $750
Deck – $500
All homes and properties around the firebreak will get one of four different letters, depending on their scenario.
Either confirmation they're fully or partially eligible or a letter explaining they're not eligible for this or future firebreak plans.