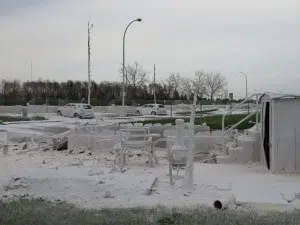 The boundaries in areas affected by the wildfire are being re-surveyed.
At their meeting Tuesday night, Wood Buffalo Council voted unanimously in favor of resurveying the areas of Beacon Hill, Waterways and Abasand.
The project will replace monuments that marked lot boundaries that were lost during the wildfire and through excavation and backfilling.
Director of Planning and Development for the RMWB Jamie Doyle tells Mix News this new survey will provide a better certainty for homeowners.
"In the future should the house be sold or if they want to update their property files they have an accurate and current real property report showing that survey."
Doyle adds homeowners with builds already underway should not worry about these new boundaries.
"We're not concerned with houses already being built, in fact, they'll probably serve as a reference point for most of the surveys."
The municipality will cover the cost of the project, so there is no charge to residents.