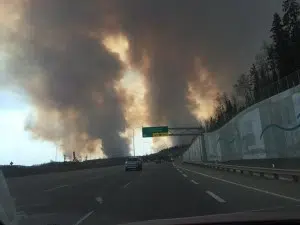 A Quebec University is releasing the findings of a post-traumatic stress survey conducted about three months after the wildfire.
In July and August, nearly 380 residents took part in an online survey by Laval University, with 55 also participating in an interview.
According to the results, 60 per cent of respondents reported significant post-traumatic stress symptoms, including repeated disturbing memories of the fire, felt upset when reminded of the stressful experience or had trouble falling or staying asleep.
In the clinical interview, about a third said they had PTSD or major depressive disorder.
The author of the study notes as the recovery progress continues it's expected the majority of participants will return to how they felt before the wildfire.
The University plans to do a follow-up survey to understand the longer-term psychological impacts.