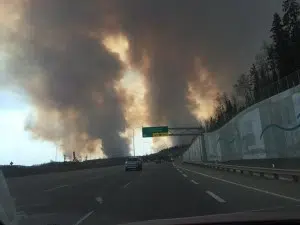 The financial impact of the wildfire could be more than double than first expected.
That according to a new study out of MacEwan University which says the costs could actually be close to $9 billion.
Originally, the Insurance Bureau of Canada set the number at $3.58 billion. Then back in November, the Conference Board of Canada did their own report re-evaluating the costs to be around $5 billion.
In the report released Wednesday, it highlights the impact the wildfire had on the environment, local businesses, public sector, forestry, oil industry and mental health of the community.
The study says oil companies had the biggest impact, losing close to $1 billion, after losing 14 days of production which would normally see 1.2 million barrels be produced per day.
In total, the direct costs are being estimated at $7.22 billion with the indirect costs just over $1 billion. After adding the long-term costs, the total sits around $8.86 billion.
Also included is what the impact will look like down the road.
The report shows the rebuild will have a positive effect for the area, noting the municipalities decision to give most of the rehabilitation contracts to local companies will help in the revival of the local job market from the oil price shocks.