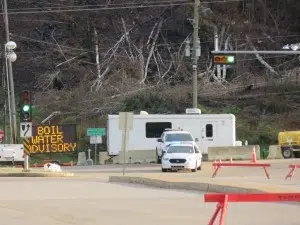 A Yellowknife company is being awarded the security contract for the rebuild.
This is making one local company quite upset as they say they volunteered their time during the evacuation, while offering a home-team discount for the contract.
The company says their main issue is they've seen the RMWB preaching the importance of local businesses, but they chose an outside company.
However, Security Advisor with the Recovery Task Force Mark Kay tells Mix News the Yellowknife company was chosen after a fair, procurement process.
"We have categories and qualifications that we sent out in the RFP, so all the companies that responded to that knew the criteria that we were looking for."
The RMWB notes the security contract was awarded based on a combination of price, company profile and work plan.
The local company thinks price was a big reason as they believe the municipality hired the cheapest company.
Kay notes this isn't the first time they've worked with out of province companies, this includes during the wildfire.
"We had the largest security requirement, we had a lot of guards that we could not source locally so we supported our call for many guards with guards from all over the province, in some cases out of the province."
One employee of the business, who's asked to remain anonymous says "the RMWB bypassed the people and companies that were there for them when they needed it."