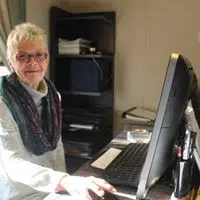 Flags outside the municipal building in Fort McMurray are flying at half-mast in memory of former councillor and long-time resident, Diane Slater, who lost her battle with cancer on Saturday.
A nearly 40-year resident of Fort McMurray, Slater served as councillor, acting Mayor, CAO of the Fort McMurray Chamber of Commerce for 15 years and was also on the hospital board, to name a few.
Long-time friend Jon Tupper tells Mix News she has done so much for the community.
"She certainly left a legacy with her Regional Economic Development link, which is a way to get local businesses to know what opportunity there are in the oilsands. She's influenced policy on city council, everything from fighting against tax hikes to helping them fight the Government of Alberta get more land available. She was also instrumental in helping with the Urban Development corridor."
Tupper says she was a great friend and saw people for who they were.
"After I left the Chamber of Commerce and started my family, she transitioned into being a very very close friend. She was always there to help me with parenting advice or listen to me complain about my lack of sleep. I was always hoping she could be a role model for my daughter, but unfortunately she passed on."
In a release, Mayor Melissa Blake says Slater was committed to making this the best place to live, work, play and do business.
"My deepest sympathies go to her friends and family. She will be missed."
The Fort McMurray Chamber of Commerce is also remembering Slater on their Facebook page.
"The Fort McMurray business community lost a true champion on December 31st. Diane Slater was the Chief Administrator for the Fort McMurray Chamber of Commerce for fifteen years. The Fort McMurray Chamber Staff and Board would like to extend its deepest condolences to Diane's family and friends during this time. Rest in Peace Diane," the post says.
The RMWB will be flying flags outside the municipal building at half-mast until sunset on the day of the memorial service to honor Slater.
– Picture courtesy of Facebook