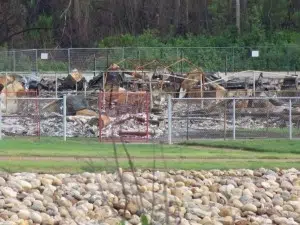 The RMWB is conducting verification's at curb stops of fire-damaged properties.
This is to ensure all water connections are clear of debris, as there's concerns that some have become blocked since the fire.
The Municipality is asking residents to remove any material from their curb stops, including backfill, construction supplies and fire-related debris.
If it's found your curb stop has been damaged during the demolition or rebuild, the RMWB says you may be required to pay to fix it.
They also recommend homeowners hire a contractor to run a camera inside all water and sewer connections before the lines are put back in service to ensure there's no blockages.
If you have questions about verifying your pipes are clear of blockages, you're asked to call the PULSE Line or visit the RMWB's website.