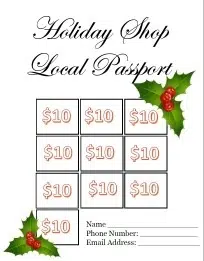 The Chamber of Commerce is bringing back its popular Shop Local Holiday Passport to the RMWB.
The passport is a new way for residents in the region to support local businesses, and possibly win a bit of extra cash this holiday.
Every time you spend $10 at a participating business, you get a stamp on your passport, and every 10 stamps earn you the chance to enter a draw for $1,000 of McMurray Money that you can spend at local businesses.
Chamber of Commerce Executive Director, Alexis Foster, says last year they tracked over $55,000 spent at local businesses, over a three week period.
This year the program started in October and will run through December 10th, with the draw happening on December 13th.
For more information, head to the Chamber of Commerce Website.
 -photo courtesy of the Chamber of Commerce website.