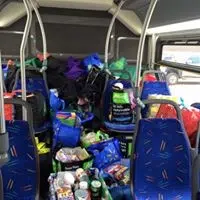 The first ever Stuff-A-Bus campaign here in Fort McMurray turned out to be a great success.
Six schools and 11 local businesses pitched in donations for the Wood Buffalo Food Bank, totaling 12,217 lbs.
"It has been very exciting to work with Municipal Transit Services on our first Stuff-A-Bus event," said Arianna Johnson, Executive Director of the Wood Buffalo Food Bank Association. "Having seen the Stuff-A-Bus event in other municipalities, we're ecstatic with the results we've seen here and look forward to this being a lasting partnership."
Among the new initiative was a competition between schools. The school who donated the most non-perishable food per capita would win a free three-hour charter bus.
École Boréal barely beat out Timberlea Public School, averaging over 8 lbs. per student.