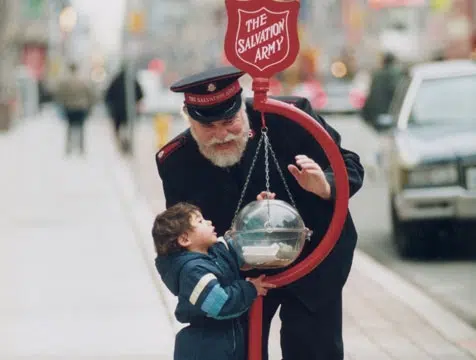 Christmas is fast approaching, which means you'll start to see the Salvation Army Christmas Kettles around town.
Their annual campaign kicks off Saturday at 1 p.m. at Peter Pond Mall. Six other kettles will be set up at various locations around Fort McMurray.
Major Stephen Hibbs says this Christmas and the kettle campaign is very important financial part of the work The Salvation Army is able to do for families and really for anyone who needs that hand up.
"Last year, when we were in the grips of a recession, we had one of our best kettle drives ever. It goes to show the heart of this community; that no matter how difficult life can be, that giving spirit remains strong."
The funds are administered through the Army's family services department which works with the homeless, the under privileged and the working poor.
The goal for this year's drive is to raise $190 thousand.
Aside from financial donations, The Salvation Army is also accepting grocery gift cards and toys as it organizes Christmas hampers for those who would otherwise have nothing under the tree or on the table Christmas Day.
Last year, the Army gave hampers to 304 families and out of the families, there were 513 kids that we looked after with Christmas toys.
– Photo courtesy of Salvation Army's website