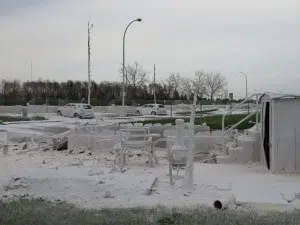 A local family is speaking out about a possible bank policy affecting their own rebuild.
Jenny Graham and her husband were talking to their bank when they were told of a new policy which would have their insurance money be used for paying off their original mortgage before they could re-apply for a builder's mortgage.
After many talks with their bank, they were excluded from the policy and from what they believe, they are the only ones avoiding this policy.
Graham tells Mix News their biggest concern is for other families who could find themselves in the same situation.
"Re-applying for a mortgage, I mean some families might not be able to re-qualify and it's just concerning, just awful."
She says they've been in contact with others in the same boat via social media and they are hoping to help them get the same treatment.
Grahman notes for the longest time they thought they were going to have to pay for the rebuild from their own pockets, a rebuild that had already begun.
"We already had our foundation up and our framing was done and so it just didn't seem fair and we really truly felt like we were being re-victimized."
She says she doesn't believe the bank is doing this on purpose but it's making life a lot harder for many families in their own recovery.