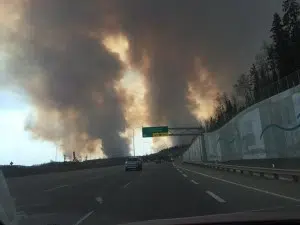 Over $5 billion will be re-invested in Alberta's economy over the next three years to help re-build the Municipality of Wood Buffalo following the wildfires.
That according to the Conference Board of Canada's report on the economic impacts of Canada's most costly natural disaster.
"The wildfires will leave a sizeable dent in public finances, while property and casualty insurers will have to absorb the massive cost of claims," says Pedro Antunes, Deputy Chief Economist.
In the report released Tuesday, the Conference Board says the insurance industry will absorb most of the $5.3 billion, which is estimating $3.6 billion in claims. That's 45,000 claims at an average payout of almost $80 thousand. The Insurance Bureau of Canada estimates property claims alone will make up over a billion dollars.
Meanwhile, the report shows the re-build is expected to boost Alberta's economy by $1.1 billion next year, as more than 2500 homes will be re-built over the next three years, along with repair works, furnishing of homes and purchasing of new cars, helping to boost residential construction and retail sales.
This work will add nearly 5100 jobs to the Wood Buffalo economy next year and 9, 000 province-wide.
Meanwhile, the board notes the clean-up efforts won't offset the losses in oilsands production. The fires reduced oil production by roughly 47 million barrels in May and June. It's estimated that $1.4 billion in revenue will be lost to producers and the province this year.
Overall, the Conference Board expects the impact of the wildfire to shave $456 million or 0.1 per cent from the real GDP in Alberta this year.
ATB Financial has already come out saying the wildfire will have at least one positive on the economy. The Construction and building services is expecting to see a big boost due to the massive rebuild that will take place in the region over the next year.