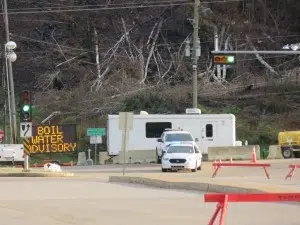 Two Haul routes are being made for Abasand and Beacon Hill.
These routes are expected to be done by April, 2017, and give construction workers a different route in and out of the communities.
Council approved the plans, unanimously earlier this week after delaying the request by one week so the Wood Buffalo Recovery Committee could focus the main request for the haul routes.
Chair of the Wood Buffalo Recovery Committee, Jeanette Bancarz tells mix news these haul routes will echo the message safety first.
"If you can actually separate the haul routes from regular traffic, where residents are going about their daily business, it keeps are community safer," she said. "The volume that will occur starting next April will be significant."
The Abasand route would broaden an existing trail between Abasand Drive and Abbotswood Drive while the route in Beacon Hill would run parallel with Beacon Hill Drive.
Adam Hardiman with the Wood Buffalo Recovery Task Force spoke to mix news explaining these routes, especially on Abasand, will be safe to use.
"Wouldn't do it if it wasn't, it's a top priority to protect our residents and to make sure it's right."
If another emergency were to happen, these routes could be used as a second route out of both communities.