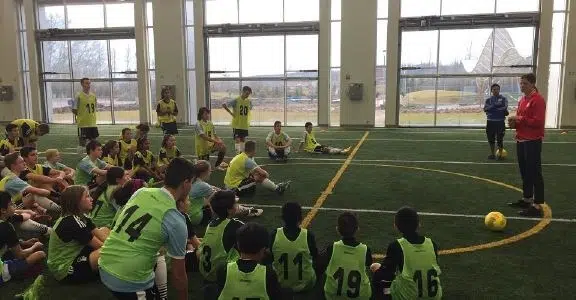 Fort McMurray Youth Soccer Association is receiving soccer equipment from Canada Soccer.
The donation includes hundreds of soccer balls, cones, pinnies, 75 first aid kits and Canada Soccer scarves and mitts.
"We are pleased to be working with our partners to help the people of Fort McMurray heal through sport," said Canada Soccer General Secretary, Peter Montopoli. "Sport has the power to heal and there is a soccer community within the Fort McMurray community that will benefit from this donation."
The Alberta Soccer Association has also waived the registration fees for the indoor and outdoor soccer seasons.
Back in April, the Fort McMurray and Wood Buffalo Sport Strategic Plan was finalized and is starting to be implemented by Fort McMurray tourism.
"With over $1 billion of sport and recreation infrastructure already in place we are actively pursuing the attraction of sport events to Fort McMurray and we are "open for business" on major sport events, sport related meetings and training camps," said Jean-Marc Guillamot, Chair of the Board, Fort McMurray Tourism.
Local athletes got a chance to hear from Canada Soccer Women's National team goalkeeper, Olympic Bronze medalist and Alberta resident Stephanie Labbe who was in Fort McMurray for the announcement. While here she also had a chance to speak at the opening banquet for the CCAA Men's National Soccer Championships.