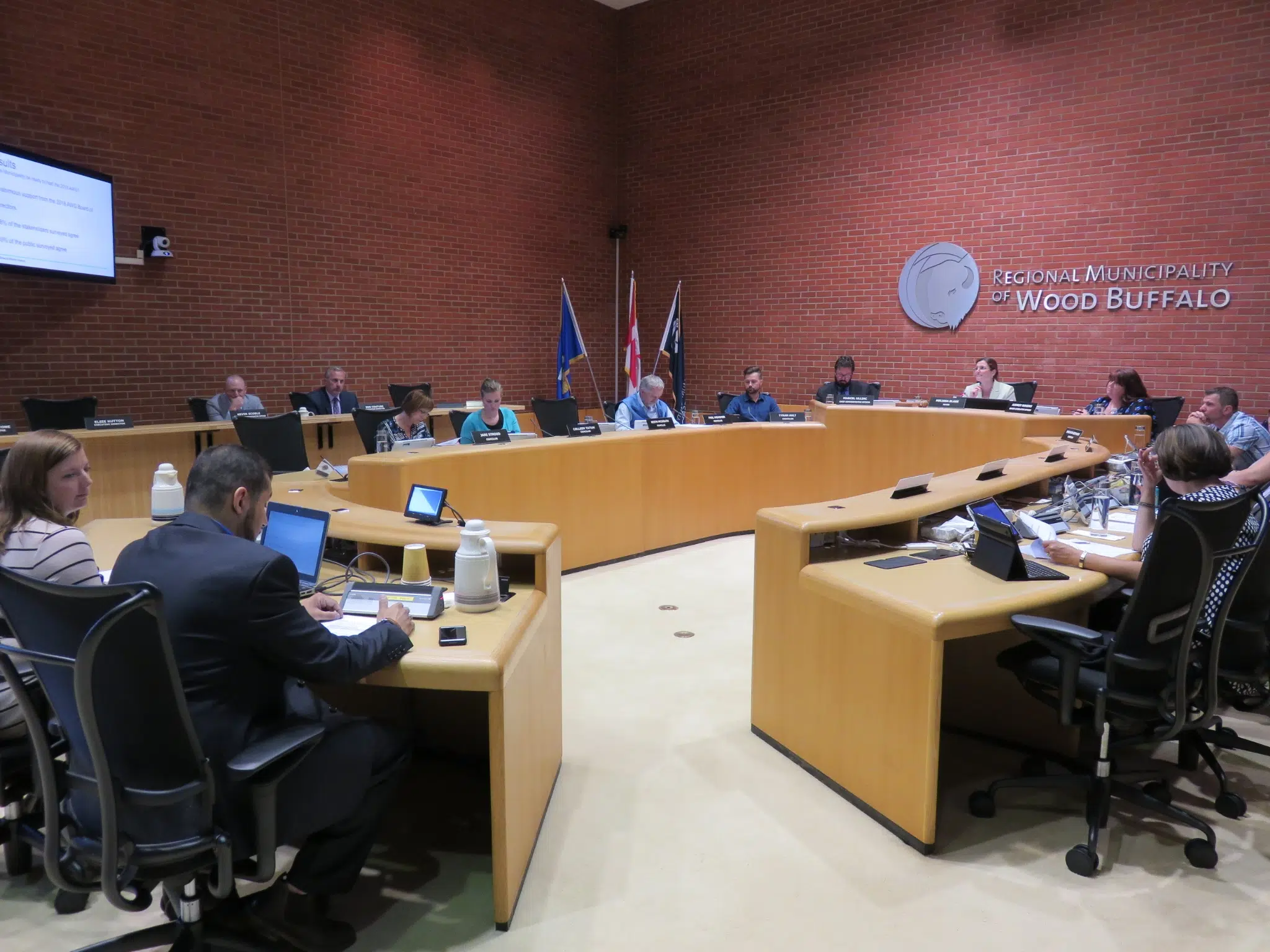 In the middle of budget talks, Wood Buffalo council will take the meeting off from discussing numbers for various other topics.
Council is being recommended to review the Truth and Reconciliation Commission of Canada Calls to Action Report. This would identify where the municipality has the jurisdiction and ability to implement Calls to Action in assisting reconciliation.
They will also discuss the possibility of funding for the pre-designs of secondary and emergency routes from Abasand, Beacon Hill, Waterways and Wood Buffalo.
The Wood Buffalo Recovery Committee is recommending council amend the 2016 Capital Budget to advance the preliminary designs.
Abasand and Beacon Hill Secondary Access Road: A gravel road west of Abasand, going south between the Horse and Hangingstone Rivers along the utility corridor connecting with the landfill site. A roadway segment from Beacon Hill will also connect starting south of the community, extending westward and crossing the Hangingstone River over a bailey bridge. There may be an option to connect this road with Highway 63 at Saprae Creek Trail intersection, in the future.
Abasand Emergency Egress Road: From the top of Abasand, at Abbottswood Drive, down to Abasand Drive (just north of Grayling Terrace). There is an additional option to see this road connect with Highway 63 for southbound traffic only.
Beacon Hill Secondary Access Road: A gravel road which would connect to the existing service road west of Highway 63 to the first intersection in the Beacon Hill community on Beacon Hill Drive.
Beacon Hill Emergency Egress Road: A gravel egress route allowing traffic to exit along, Beacon Hill Drive, and
to connect with Highway 63 southbound.
Wood Buffalo Emergency Egress Road: A paved connection between Wood Buffalo and Thickwood by upgrading an existing three paved trail between Woodward Lane and Wolverine Drive.
Waterways/Lower Townsite Emergency Access, Saline Creek Parkway: A gravel road which would connect Waterways with Saline Creek Parkway whiling aligning to the existing Saline Creek Parkway by the Airport running perpendicular to the Clearwater Valley slope on top of Saline Creek Plateau. This will be an alternate route to Highway 63 between the Athabasca Bridge and Saprae Creek Trail.
The first reading of the Janvier Area Structure Plan, which is a 10-year plan to guide growth and development in Janvier, will also go in front of council for the first time.
Last up, will be two possible name changes for a subdivision and baseball diamond. The first being to name a subdivision Prairie Creek Business Park and the other to name Ball Diamond No. 5 at Syncrude Athletic Park as Tim Young Diamond.
Council meets Tuesday night at 6 p.m. at the Council Chambers.