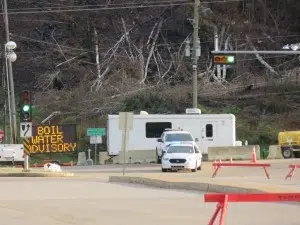 Phase 2 re-occupation of Abasand and Beacon Hill is under way.
Residents of 169, Abasand and 55, Beacon Hill homes can return at any time following the recommendation from Karen Grimsrud, Chief Medical Officer of Health.
"My November 4 recommendations to allow the full re-entry to Abasand and Beacon Hill recognizes the diligent work the municipality has done to protect returning residents from harm. As the community continues to rebuild, I encourage everyone to keep health and well-being top of mind. Each person's journey after a traumatic event is different, and I encourage residents to access the health and community-based supports available to help you," said Grimsrud.
Security checkpoints in Abasand and Beacon Hill are no longer active and all green homes are now accessible. However, mobile security patrols will continue in all damaged areas.
"I am humbled by the resolve of our residents during this difficult process and am grateful to all those involved in the recovery of our community. It is exciting to turn the page on demolition and focus ourselves on the task of rebuilding. The determination that is characteristic of this region, dating back to the first people of the land, is part of the DNA of people in the north and I have no question that our community will rebuild stronger than before," said Mayor Melissa Blake.
An Information centre will be open in the gymnasium of Father Beauregard School, 255 Athbasca Avenue, on Monday November 7 from 12 p.m. – 8 p.m.
"As a community in recovery, we look forward to the continued safe rebuilding of our neighbourhoods with a goal of building back better," said Jeanette Bancarz, Chair, Wood Buffalo Recovery Committee.
Residents in Phase 2B, Abasand and Beacon Hill, will be able to dispose of residential waste free of charge at a number of bins located throughout the neighbourhoods.
Abasand North:
Corner of Athabasca Ave & Ryan Lane
Corner of Athabasca Ave & Robinson Lane
Corner of Athabasca Ave & Richardson Lane
Corner of Athabasca Ave & Roy Lane
Abasand South:
Arsenault Crescent
Athabasca Ave
Corner of Athabasca Ave & Astum Court
Alpine Court
Corner of Aurora Place & Amren Drive
Aime Court
Beacon Hill:
Beaver Ridge Close
Beaconsfield Road
Beaconwood Place
For more information visit www.rmwb.ca/ABW.