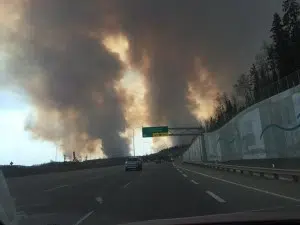 The Province of Alberta is announcing new measures help prevent future wildfires.
Bill 24 would inflict tough fines, improving abilities to reduce risks when fire conditions are hazardous and clarifying roles, operational processes and responsibilities.
"About 70 per cent of wildfires in the last five years have been linked to human causes, so we need to talk proactive steps," said Oneil Carlier, Minister of Agriculture and Forestry.
Fines will now be increased for corporations who don't follow the act can be fined up to $1 million with individuals being fined up to $100,000. The size of the fines will be done through an investigation and finished through court.
New penalties of up to $10,000 are being introduced for industrial violations such as not having a wildfire plan or the lack of fire equipment on the work site.
Trained RCMP and Forestry, Fish and Wildlife Conservation Officers can hand out tickets for careless uses of fires. Tickets of between $150 and $1,000 can be handed out for burning without a permit, leaving a campfire unattended or burning within a fire ban.
"Strengthening penalties is an important part of the equation, we want to discourage reckless and irresponsible behavior that puts Alberta's communities and forests at risk," said Carlier.
This would also allow the province to restrict the use of Off-Highway vehicles when the forests are tinder dry. It would also restrict drones from being used around wildfires as they could cause safety problems for helicopters and water bombers.
Industries will now be obligated to help prevent wildfires from following a 12-month timeline to dispose of potential forest debris.
The last component of the Bill would move the start of Fire prevention month to March 1 to give more time for Albertans to be better educated when Spring hits.