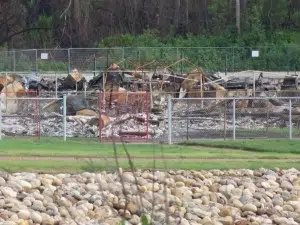 Waterways residents can return to their standing homes today.
This following Friday's recommendation from the Chief Medical Officers of Health.
The Phase 2A re-entry includes all 31 standing homes and two commercial structures.
The RMWB says this phase of re-entry was made possible by the substantial completion of demolition and the presence of multiple risk mitigation measures to protect Waterways residents.
"On behalf of the Wood Buffalo Recovery Committee, I'd like to share our gratitude to our returning Waterways residents for their continued patience and resilience. Alongside the Chief Medical Officer of Health, the Government of Alberta and Alberta Health Services, we are very happy to welcome you home. We continue to work hard on behalf of all Wood Buffalo residents, especially those who have yet to be able to return home in Beacon Hill and Abasand," says Jeanette Bancarz, Chair, Wood Buffalo Recovery Committee.
An information centre will be open on Monday from 10am-8pm at the Royal Canadian Legion on Huggard Street in Waterways.
Meanwhile, the municipality says the remaining standing homes in Abasand and Beacon Hill will be able to re-enter following the completion of demolition, as part of Phase 2B.