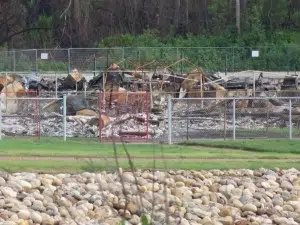 The Habitat for Humanity Wood Buffalo can now continue their plans with the Railway Avenue build project in Waterways.
It was scheduled to start back in May but was quickly delayed due to the Wildfire and evacuation.
The project got the green light after rebuild restrictions were lifted in the area and they've now started building a single residential home.
"We were waiting with bated breath for that to come through," said Crystal Lewis- Wilton, Executive Director of Habitat for Humanity Wood Buffalo.
She says the family moving in is a single mother of two kids in Canada and two more coming from Africa. A call was made to the mother after the restrictions were lifted who was just overjoyed they didn't have to wait until spring to start the construction.
"They're over the moon," said Lewis- Wilton.
The construction has began, as the screw piles who installed last Friday with plans to create the foundation by this Thursday.
She adds this will become a weekend project with a new task being done each week. The idea and hope is to be finished ahead of the new year.
To learn more about this project and other ways to get involved with Habitat for Humanity Wood Buffalo you can attend the free Pancake Brunch and Open House on Saturday October 22 from 10 a.m. – 1 p.m. being held at the Legion in Waterways.
Tickets are free and available online at www.eventbrite.ca