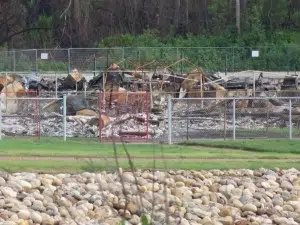 Going into the weekend, one family, whose property lies in Waterways, got the news they've been waiting for since re-entry.
Alex McKenzie learned earlier today that he's received the first building permit for the area and has yet to come down from cloud nine since the news.
"I was super excited, it's been a combination of a month of hard work to get to where I am now and a lot of pushing and shoving to get it happening," said McKenzie.
The hope is to get the shovels in the ground by this Sunday and hopefully have the foundation set by Halloween.
"My biggest thing is the psychological impact that it's going to have on the community," he said. "And ultimately what this is going to show to my fellow community members is that we've gone from a we will rebuild to we are rebuilding."
He's shown his support in council for the rebuild in Waterways being on hand when they repealed the bylaw which prevented the start of rebuilding in Abasand, Beacon Hill and Waterways.
Alongside him at the meeting were his kids, Helen and William. Due to work and school they haven't immediately heard the news but they've had some very loud reactions to previous steps taken in the right direction.
"Well they screamed in my house and were super happy when we got are development permit."
McKenzie is hoping the news will lift the spirits of his fellow residents as many seem defeated, in a way, especially with the Winter months fast approaching.
" I know there is still a little bit of time so for those people that have started the process but kinda sat on it and weren't to sure, I think that might be a motivator to get them moving."
To summarize in his own words, McKenzie says it's been a long road and now he can start to go on cruise control.