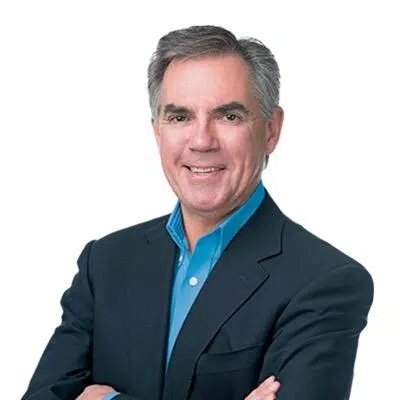 The family of former Premier of Alberta, Jim Prentice, has confirmed he is one of four people who has been killed in a plane crash in British Columbia.
The Cessna Citation 550 crashed shortly after taking off from Kelowna en-route to Springbank, just west of Calgary, Thursday night.
In a statement, the family says Prentice was on board the plane along with another member of their family, Ken Gellatly, the father-in-law of one of their daughters.
"To lose two family members at once is unbelievably painful and we are certain you will appreciate and respect our wishes for privacy at this time and the coming weeks. We are also thinking of the other families who have been affected by this tragedy and our thoughts and prayers are with them."
Prentice was Premier from September 2014 to 2015.
The Transportation Safety Board of Canada has deployed a team of investigators to the accident site to determine the cause of the crash.
Prentice was 60 years old.
Former MLA for Fort McMurray – Conklin shocked by Prentice's death
Former MLA for Fort McMurray – Conklin, Don Scott tells Mix News his phone was blowing up right before he heard the news. He says he's still in disbelief and in total shock.
"I spent a lot of time with Jim and I considered Jim a good friend, I was in his cabinet so I got to spend an incredible amount of time, I considered him a mentor in many ways," he said. "He was one of the smartest, most amazing speakers I've ever met in my life and when I heard the news, I think I'm still in shock, I was devastated because I've still been in touch with him on occasion."
Deeply saddened by the loss of Jim Prentice, a good Albertan, leader and friend #ymm #ableg #yyc

— Don Scott (@DonaldKScott) October 14, 2016
Scott says they haven't talked for several months but remembers always hearing Jim talk about his family.
"He was a real family man, always talked about his family so the news took us all by surprise," said Scott.
He adds his deepest concerns right now is for his family, mentioning the fact he hopes his wife, Karen, will be alright.
"He's definitely a man that will be deeply missed."
Premier Notley Issues Statement
Premier Rachel Notley says there are no words adequate for moments like this, as her family knows very well. Notley's father was also killed in a plane crash.
In a statement, the Premier says Prentice served our province in so many roles for so many years.
"He deeply loved Alberta. He worked tirelessly for all of us, in the true spirit of one who is committed to public service. I benefited from his advice, and the Government of Alberta is continuing to pursue many of his initiatives. All Albertans are the better for this."
Prime Minister Trudeau "saddened" by Prentice's death
Prime Minister Justin Trudeau is also speaking out about Prentice's death.
In a statement, Trudeau says Jim Prentice brought his deep convictions to everything he turned his hand to, whether it was law, business, or politics.
"At each step of his career, he worked tirelessly for the people of Canada and Alberta – both as a federal minister in several different portfolios, and later, as Premier of the province."
Trudeau adds today we mourn the passing of a great Canadian. His legacy will live on in the work he did for Albertans and for all Canadians – particularly in the important role he played in finalizing the Indian Residential Schools Settlement Agreement.