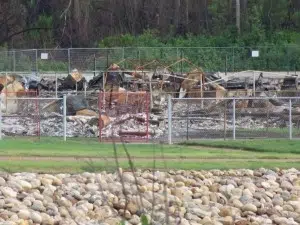 The second "Here for You" session about Waterways will be at Shell Place tonight.
Tonight's meeting will give residents a chance to ask one on one questions with municipal staff about their situation and the rebuild ahead.
"This is an engagement about Waterways, our presentation is about Waterways but every week at our "Here for You" sessions the recovery team is prepared to answer questions about everything recovery," said Erin O'Neill, Operations manager for the Wood Buffalo Wildfire Recovery Task Force.
The Recovery Task Force, Wood Buffalo Recovery Committee, Planning and Development and Legal Services will all be on hand.
The session will be from 4-8 p.m. at Shell Place. A presentation about the results of the Waterways Survey will be explaied in more detail along with options that were presented through the questionnaire.
"We're still looking at options, we want to make sure that residents know we heard what they were saying," said O'Neill. "We can't make any promises that it won't be a status quo, rebuild but we want to make sure we examine all the options from what we heard from the survey."
This includes the Buyout option that was given as feedback through the survey which saw 29 of the 146 surveyed show interest in the idea.
For those who can't make the information session, the presentations will be aired live via facebook. Residents can also call the Pulse Line at 780-743-7000 after for questions related to the sessions.