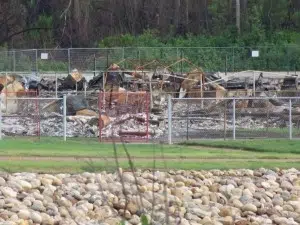 "We believe we have to and will get back to the community as early as next week with a full on stakeholder agreement."
Those words coming from Dana Woodworth, Lead of the Recovery Task Force explaining to residents of Waterways there will be a future "Here for You" session though no date has been confirmed as of yet.
This coming a day after council repealed the land use bylaw which had restrictions on the rebuild in the areas located in the flood hazard zones.
Residents can now expect to see their permits approved for the area if they meet the requirements.
Before a date is set, the RMWB wants to know what questions the residents still have over the area.
Residents can attend tomorrow's session which will be at the Jubilee Plaza from 4-8 p.m. as part of a Thanksgiving gathering. Here residents can ask general recovery questions and give the municipality feedback on concerns and questions they want answers to about Waterways.
Wood Buffalo Recovery Committee member Marty Giles started it off by asking that planning and development be on hand as the overlay and rebuild requirements can be tricky to understand.
"We got to have planning people navigating at the next session because it's tricky and we want to send these people off on the right path."
The committee also heard the results from the Waterways Survey that took place for most of September. The main results were released earlier in the week which showed a strong support for a status quo.
Status Quo – 99 (68%)
Internal Land Swap – 5 (3%)
External Land Swap – 10 (7%)
Buyout – 29 (20%)
Other – 3 (2%)
Thirteen of the 99 who supported the status quo gave multiple responses, giving feedback for a fourth option brought to the attention of the Wood Buffalo Recovery Committee by the residents, a buyout.
Two of the five who voted for the internal land swap also supported the buyout while six of the 10 of the external land swap said they would also support.
The date for the "Here for You" session has not been determined but the hope is for some time in mid October and take place at the Legion located in the area. There are also plans to possibly hold more than just one session on Waterways.
Feedback is still welcomed by calling the pulse line at 780-743-7000.