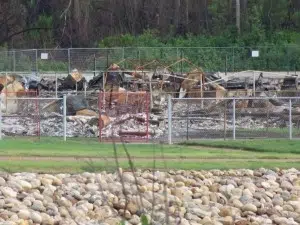 Council is voting in favor of repealing the bylaw that restricted rebuilding in the flood zones of Waterways.
Waterways was the last area to have any restrictions on the rebuild after council approved the overlay amendment on the land use bylaw to allow rebuilds in all areas to pre-existing footprints.
In 2013, after major flooding occurred in several municipalities, including the RMWB, the Province amended the Municipal Government Act to make regulations to control any future flood developments below the 248 metre contour elevation.
"With the lifting of the special flood proofing requirements there is no reason why all of Waterways should not join in the certainty of development approval that was recently given to all areas most affected by the wildfire under the new wildfire overlay to the land use bylaw," said Jamie Doyle, Director of Planning and Development.
Council also approved extending the overlay on the land use bylaw to all of Waterways meaning property owners can rebuild to pre-existing footprints from before the wildfire.
Residents can expect to see their rebuilding permits be approved as long as they meet the requirements.
"This really clears a path, in some respect, for people looking for answers," said Mayor Melissa Blake.
For those who choose to rebuild in the flood hazard zones in Waterways, and flooding does happen before construction of a 1:100-year flood protection solution is put in place by the municipality, they will be eligible for relief through the province's disaster relief program with or without any flood proofing measures of their own.
Deputy CAO, Kevin Scoble says funding for the pre-design and design measures, such as a demountable wall, have been approved by council. They are also in position to start the construction next year if that funding is approved by council.
Residents will need to sign a waiver before the rebuild can begin, acknowledging the risks that could rise from building in a flood zone area as well as agreeing to not hold the RMWB accountable if flooding does occur.
The waiver will also be included for anyone in the future who has plans on buying a property in the flood zone.