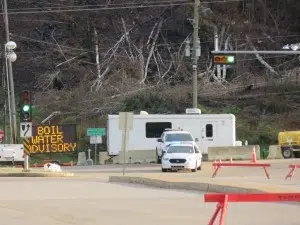 The municipality is releasing to the public a lengthy report about safety mitigation measures ahead of the Phase One Re-Occupation of Abasand and Beacon Hill.
Four hundred and thirty seven households are set for re-occupation in the two areas with residents being able to re-enter these areas at 8 a.m., August 31st, with Information Sessions being available from August 31st – September 2nd, from 8 a.m. – 8 p.m.
"You don't have to go to attend an information centre, you can do that after you go to your home but we do encourage residents to visit one of the information centre's," said Erin O'Neill, Recovery Branch team Lead of the Task Force.
Information booklets will be handed out with all the information that each resident needs to know being included.
Properties that face or back onto properties that were damaged from the wildfire will have an additional slip combined with their booklet.
"If residents do have a pink placard on their information booklet that means you're eligible for an additional inspection from Alberta Health Services," said O'Neill who adds that contact information will be included with the placard. "So if you don't have one there is no need to worry."
Security check points will be changing , moving from the entrances to of Abasand and Beacon Hill, to the areas where there is debris and the remaining standing homes to make sure no one wanders into the unsafe areas. Security will be operational 24/7.
"Otherwise residents can go in, friends can visit, it will basically look and feel like a community again," said O'Neill.
Multiple services will be on site including: Red Cross, the Utility Companies, ATCO Electric, Shaw, Telus, Insurance Bureau of Canada with Municipal representatives available to answer all the questions.
A forty-seven page report on the Phase 1 Green Zone Re-Entry Plan along with the report sent to the Chief Medical Officer of Health can be found on rmwb.ca.