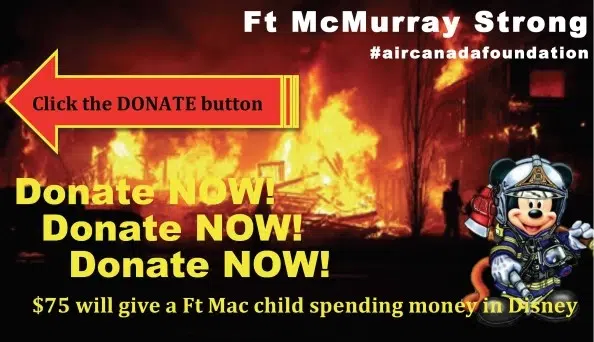 A national charitable organization is making room for 55 children to visit Disneyland next month.
Dreams Take Flight got a bigger plane to take 95 kids from Edmonton and 55 from Fort McMurray for a whirlwind trip to California and a day at the most magical place on earth.
Mom, Kathie Biech, says her six year old didn't quite know what was up at a surprise meet and greet yesterday.
"We walk in and there's Disney characters all dressed up and Elsa and Anna and the Edmonton Eskimoes were there and some of the kids kind of got it, some of the kids didn't. Eventually they had a big parade come from the back of the huge room we were in and they told the kids that they're going to Disneyland," says Biech.
Biech says the kids will leave the Fort McMurray airport around three in the morning, getting a police and fire escort to Anaheim, and spend the day on the rides at the park.
She says they won't return to Fort McMurray until after all the parades and fireworks so it'll be a long day for them. They leave for the trip on September 14.
Biech says the organization provides a trip-of-a-lifetime to medically, phsyically, socially or emotionally challenged children and this year opened it up to kids in the area who went through the wildfire and evacuation.
A link to make donations to the charity is here.