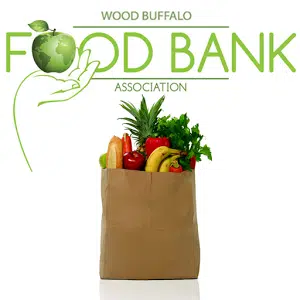 The Fort McMurray Fire Department responded to a fire on Manning Avenue just before midnight on Sunday.
A space in the building was being used as additional storage for the Wood Buffalo Food Bank and as a result they will have to throw away many supplies that were damaged from the smoke.
This includes: food items, food storage containers, diapers and toilet paper.
"We had only just moved Food into that warehouse on Friday because we just had it expected by Alberta Health Services and licensed," said Arianna Johnson, Executive Director of the Wood Buffalo Food Bank. "There is probably about three tractor trailers of food."
According to Alberta Health Services food safety standards only the canned goods are deemed safe and can still be distributed. Also among the supplies, the Food Bank will also need to destroy the boxes used for hamper distribution.
This is a second occurrence as the food bank had to throw away 53,257 possibly contaminated food items following the wildfire.
At this time, there is no estimate of the extent of the damage or the cost to replace the all the supplies that had to be thrown away.
The fire also caused a delay of two days for the distribution of the Mobile Pantry Program to at least one of the rural communities.
All of this comes right before the Food Bank was about to go back to their proper hours of operations. However, Johnson says this will have no impact on their decision to move back to regular hours.
The storage unit itself was unharmed with the Food Bank going there this weekend to try and work past this unfortunate event.
"We will be here through the weekend, 8:30 a.m. -4:30 p.m. making our way through purging and washing cans so if volunteers are available they would be greatly appreciated," added Johnson.