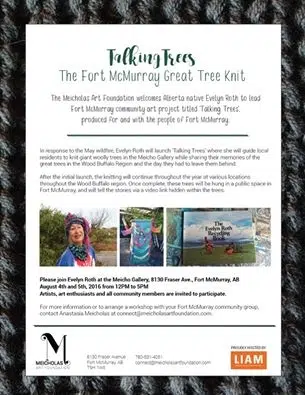 Calling all knitters.
The Fort McMurray Great Tree Knit is getting under way this week and the organizers are looking for a little help.
Alberta native Evelyn Roth will guide local residents to knit giant woolly trees in the Meicho Gallery while sharing their memories of the day they had to leave the trees of the city.
After the initial launch the knitting will continue throughout the year in various venues and when complete the trees will be displayed.
Artists, knitters, and any interested members of the community are invited to attend the launch at River Station Arts, 8130 Fraser Avenue, Thursday and Friday afternoon from noon to five.