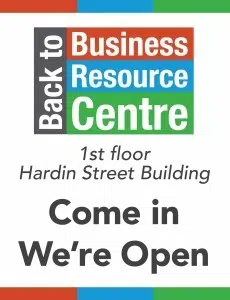 The Back to Business Resource Centre is offering a local small businesses a chance to talk to professionals in their field of business.
They are offering an opportunity to "Ask an Expert"  which will give entrepreneurs a chance for a one-on-one with an expert in their field that can assist them with questions related to their business.
"They're literally volunteering their time with us and we're so grateful," said Leigh Ann Smith, Information officer of the Economic Development.
All the professionals and experts are local workers and are volunteering their time to help these small local businesses recover from the wildfire and month long evacuation.
This will happen on Tuesday and Thursday for the foreseeable future with actual appointments happening from 9 a.m. – 12 p.m. and 1 p.m. – 4 p.m. Each day will help with a certain need and skill. Accounting help will happen every Tuesday and Legal advice every Thursday.
"They do sell out quickly as it is free, your getting free accounting advice, free legal advice so people are definitely scooping up the opportunity," said Smith.
Each 1 on 1 session usually lasts around 45 minutes so there are only 4-5 spots in each time period.
August 16th and 17th is being set for marketing help. A professional from Edmonton will be traveling up to Fort McMurray to engage local businesses with two different opportunities. August 16th will be dedicated on online marketing while the 17th will be all about influence strategy for sales and marketing.
Registration has not opened up for these two days with the hopes being to have it on eventbrite.com in the next couple days.
You can also call 1-855-923-2338 to book your spot in the day. The centre does not want to see any walk-ins for these events but anyone can come into the facility to get some advice or take advantage of their office space being provided to businesses.