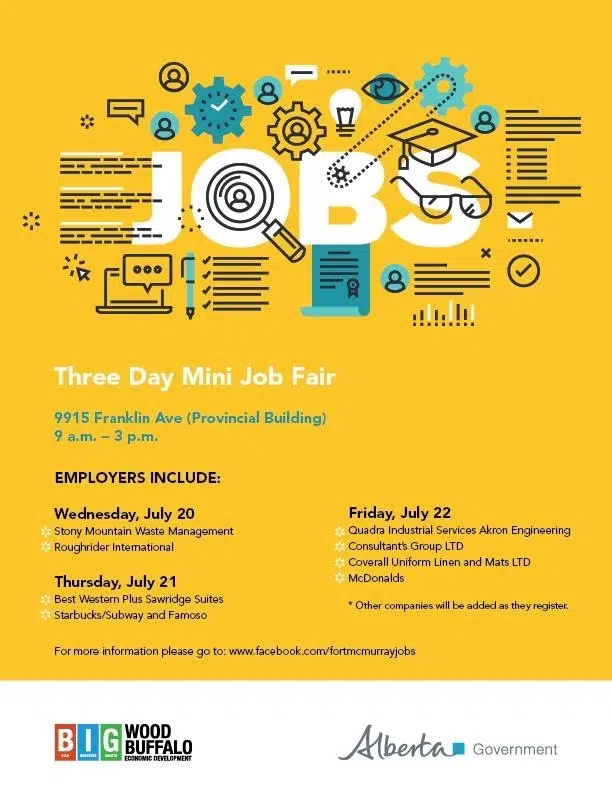 Anyone who is trying to find work can head down to the Provincial building for a mini job fair.
The first day was a busy one, with people lining up outside the building before it opened it's doors at 9 a.m. The next couple of days are looking to be just as busy, maybe even more.
"We are anticipating more people as well because it's only three businesses a day over the next couple of days, " said Leigh Ann Smith, Information Officer for the Economic Development.
Since re-entry, job hunting has been one of the hardest and most consistent searches among many citizens.
"This was a response after the fire, this was literally pulled together in the past four to five day," she said
Being in talks with the Province, they found out that many we're going to Alberta Work Centre's, as many as 700 to 800 people a day looking for jobs. While doing their welcome walks they found out that many local jobs need work.
"A lot of businesses that we're interacting with, we're hearing the same thing, we need employees," she Smith. "We thought that this job fair could connect the employers with the employees."
The fair will only be around for just two more days with a different variety of employers on each day.
Thursday:
Best Western Plus Sawridge Suites
Starbucks/ Subway and Famoso
Property Guys
Friday:
Quadra Industrial Services Akron Engineering
Consultants Group LTD
Coverall Uniform Linen and Mats LTD
McDonalds
Located at 9915 Franklin Ave the fair will be open on Thursday and Friday from 9 a.m. -3 p.m.