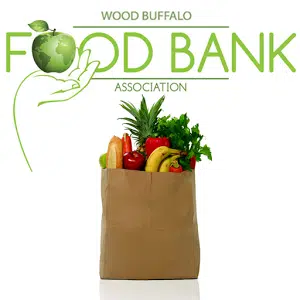 Since re-opening June 11, the Wood Buffalo Food Bank has provided 2,169 hampers to the community.
That from Communications and Development Coordinator Anna Noble who adds that equals 5,649 people.
Other statistics coming from the Food Bank this week: 1,495 households accessed the Food Bank once since re-entry, 265 have returned for a second hamper, and 48 so far have visited for a third time to receive assistance.
Noble says of the clients being helped, 22 per cent had their own home, 10 per cent, stated their home is a total loss, and four per cent had homes unsafe to occupy.
As for donations, the Food Bank received $1 million from the Red Cross and $314,357 in other donations and food to help with the increased demand post-fire.
Noble says 448 volunteers have helped with sorting donations, stocking shelves, and packing hampers, providing 2,129 hours of time.
The WBFB is operating on an altered weekly format for the summer and is line-up based until September 1 when it will be assessed on a case by case basis.
The current hours for the Food Bank are Monday to Friday from 10 a.m. to 7 p.m.
Volunteers can sign up for a shift (or more) on the website: http://www.woodbuffalofoodbank.com/.