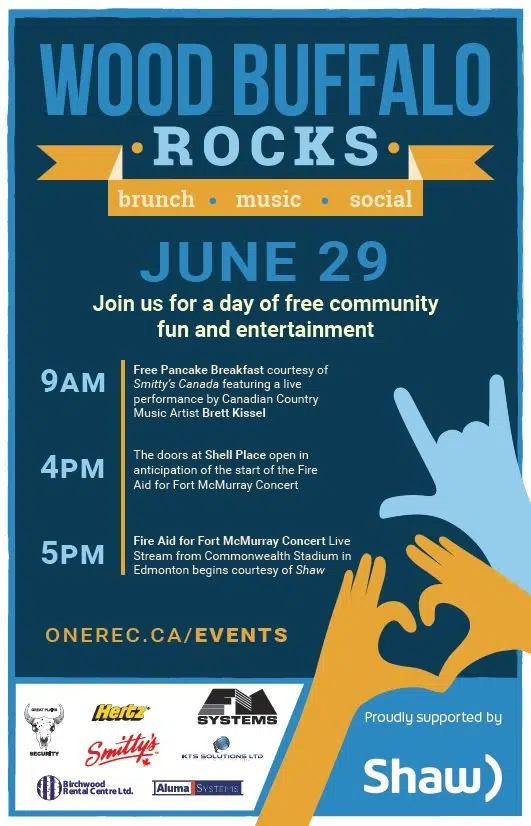 The RMWB is trying to ensure all residents in the region are able to enjoy Wood Buffalo Rocks at MacDonald Island on Wednesday.
Beginning at 3 p.m., urban charter shuttles will be transporting people to MacDonald Island from Timberlea, Thickwood, Gregoire, and Downtown. Public routes 11, 99, 101, and 102 will also be bringing residents to the venue.
The event is meant to provide residents with a way to see the Fire Aid concert taking place at Commonwealth Stadium in Edmonton. The concert features 17 acts performing between 5 p.m. and 10 p.m. with all proceeds going towards supporting the Fort McMurray United Way to assist in the rebuild of the community.
Rural shuttles have also been arranged for residents of Fort McKay, Conklin, Janvier, Anzac, and Gregoire Lake Estates. The northern shuttle will leave the Fort McKay band office at 2:26 p.m., with expected arrival at MacDonald Island at 3:13 p.m.
The south shuttle will leave Conklin Corner at 12:26, Janvier band office at 1:11, Anzac community hall at 2:21, and Gregoire Lake Estates at 2:46. It's set to arrive at MacDonald Island at 3:11.
The rural shuttles will depart 30 minutes after the Fire Aid concert ends, which is expected at 11 p.m.
Park and Ride is also available from the bus depot on Airport Road.
Urban services and Park and Ride are priced at $1.25, while the rural service will cost riders $5.