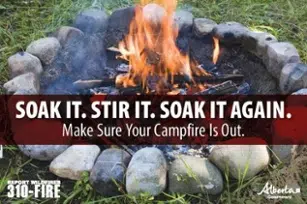 If you've been waiting for that post-evacuation backyard campfire, you won't have to hold off anymore.
The RMWB and province have lifted the urban service area fire ban that was put in place just prior to the May 3 exodus. The move comes just two days after the rural fire and OHV ban was lifted.
Residents are reminded that all burns, including campfires, require a permit. Those can be acquired by calling 780-792-7719.
In the rural areas of the RMWB, campfires are exempt from permits but all other burns require one. The rural line is 780-743-7125.
Those lighting campfires are reminded to exercise vigilance when putting them out. Alberta Wildfire recommends soaking the fire, stirring the ashes, and soaking it again. Repeat the process until the embers are completely extinguished.