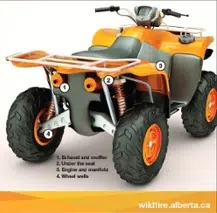 The wildfire risk is now "low" in the Fort McMurray Forest Protection Area, and the province is lifting some of its bans as a result.
The off-highway-vehicle and fire bans have been lifted for the rural areas in the region, marking the first time they've been relaxed since the start of the wildfire on May 1.
A fire ban is still in effect for the urban service area of Fort McMurray. Those wishing to conduct burns other than campfire outside of urban limits are also advised that permits are required. Permits can be granted by calling Alberta Agriculture and Forestry at 780-743-7125.
OHV users are also being warned to stay away from burned areas of forest. The weakened root systems make trees susceptible to falling with little to no wind.
Drivers should ensure their OHV is clean, particularly on areas of the vehicle that heat up, and to check frequently for hotspots. Dried mud and leaves can catch fire and fall off the vehicle, sparking a forest fire.
Campfires should also be soaked, stirred, and soaked again to ensure they're completely out.
The lift in bans and lowering of risk comes after a deluge of rain last week, nearly 47 millimetres on Friday alone, and Monday's announcement that the wildfire is "being held."