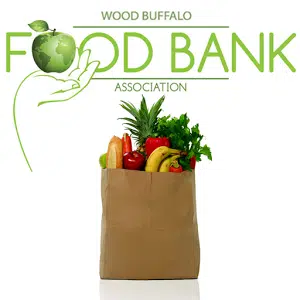 It was a lot of work, but the Wood Buffalo Food Bank is ready to welcome their clients again.
The critical social profit says they had to throw out 53,257 items of potentially contaminated food left in the building since the May 3 evacuation. In addition, their staff and volunteers cleaned 20 pallets-worth of canned goods, cleaned the warehouse, and re-stocked the shelves with new items.
They even took the opportunity to give the warehouse a new paint job.
"We had the warehouse empty," Executive Director Arianna Johnson said. "We might as well paint it."
Johnson said they're continuing to receive food supplies that they'll be able to provide to clients starting Saturday, when the Food Bank will open at 12 p.m. Instead of booking an appointment like before the fire, those wishing to use the organization's services will be lining up at an intake tent where their information including their Red Cross registration number, will be collected.
"It's going to look a little different," Johnson said. "We believe the need is going to increase exponentially, so we wanted to make it a trimmed down system."
She added that the line-up system will be used until at least September 1. In August, the Food Bank will assess whether they can return to their old appointment system.
While there's expected to be increased need, the Food Bank is also receiving higher levels of support.
"We're getting amazing support," Johnson said. "We've received financial donations from all around the world. We're very fortunate."
With the additional funding support, the organization has been able to purchase their own forklift, making the process of unloading supply trucks a lot more efficient.
"We've always had to borrow one from somewhere else," Johnson said. "Having one on-site and able to help is the biggest breath of fresh air we've had in years."
The Food Bank will be open from 12 p.m. to 7 p.m. on Saturday, then will operate daily between 10 a.m. and 7 p.m. until June 24. After that, they'll return to operating hours of 10 a.m. to 7 p.m. from Monday to Friday.