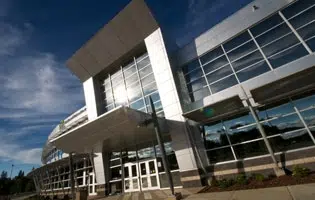 Those who are returning to Fort McMurray this month will get to enjoy the amenities of MacDonald Island Park for free, even without a membership.
The Regional Recreation Corporation is set to open up the links at Miskanaw Golf Club on Wednesday, with free tee times and rental fees for McMurrayites to last for two weeks.
That free admission will extend to the Suncor Community Leisure Centre and Anzac Recreation Centre, which are both set to re-open on June 13.
"I think it's important," said CEO Annette Antoniak. "Having the balance of having some recreation in your life at this time is important for all family members."
During the evacuation, MacDonald Island hosted evacuees for a short time before moving them south. Since then, cots have been set up for first responders and essential services workers. Anzac Community Centre was one of the main evacuee reception centres before their own evacuation.
Antoniak said a small crew of workers stayed through the month to help maintain the facility, including the chemical balances in the aquatic centre and grooming the golf course.
"Nothing was touched (by the fire)," she said. "The golf course is in pristine shape since no-one has been on it."
Free admission will extend until June 26 at the facilities, and June 21 at Miskanaw. Those with ONE Passes will see them extended by two weeks in addition to the time lost during the evacuation.