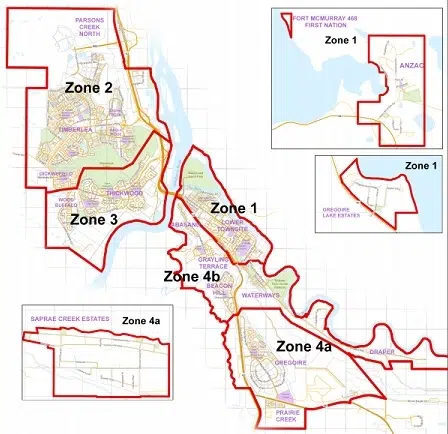 With re-entry set to begin on Wednesday, how do you prepare for re-entry and what do you need to do once you get to Fort McMurray? Here's our step-by-step guide.
Read the booklet
The first step to preparing for re-entry is to go through the RMWB's re-entry booklet. It contains key information on all aspects of the re-entry process, from what to bring to how to clean your home.
Review the Chief Medical Officer's recommendations
CMO Dr. Karen Grimsrud has advised that those who fall under the following categories shouldn't return until the NLRHC is fully functional on June 21:
Children under the age of 7
Seniors
Those with chronic illnesses, including asthma
Those who require frequent medical care
Cancer patients
Recent transplant recipients
Women who are more than 36 weeks pregnant
Those who have respiratory or pulmonary issues
Those who regularly access mental health resources, including counselling
Check the re-entry schedule
RMWB officials are asking residents to respect the phased re-entry schedule. They warn that residents returning prematurely could put a strain on the system, as the municipality has developed the phased approach to ensure that services aren't overwhelmed.
Check with your landlord
If you rent your property, it's imperative that you check with your landlord before re-entry. Some have requirements for an adjuster to go through the rental property before allowing tenants back into units. Some renters may have different habitation dates.
Contact your insurance provider
Certain insurance companies have different procedures when it comes to entering your property. It's best to speak with your insurance provider to get a detailed list on what you need to do when you enter your property. If you have further questions, you can contact the IBC at 1-844-2ask-IBC.
Arrange for alternative accommodations
If you're unsure whether or not your home will be habitable, you should arrange for a place to stay with friends or family in Fort McMurray. Some residents have found smoke damage inside their homes, while others require significant cleaning due to odours from rotting food. Hotel spaces are limited in the city, and only 500 spaces have been reserved for those caught off-guard.
A good way to determine whether your home is safe is by using the RMWB's fire map.
Plan your travel
Highway 63 is set to open at 8 a.m. on Wednesday. Director of Emergency Management Bob Couture is advising residents interested in returning to plan their travel to arrive in Fort McMurray after that time.
If you don't own a vehicle, or it was abandoned in the evacuation, the Red Cross is arranging chartered buses for transportation. If you are out-of-province and aren't receiving financial assistance to fly back, the organization is offering help with flights to Edmonton.
Pack your supplies
The RMWB is asking residents to bring two weeks-worth of supplies with them in case resources run thin. This includes groceries, medicine, and gasoline if possible. Some stores and gas bars are open, but aren't fully restocked.
It's also advised that you pack long-sleeved clothing, rubber boots, and protective eye-wear for added protection if you are going close to burned out areas. One N95 mask will be provided to households, but it's recommended to bring additional masks for back-up.
Done all of that? Come on up!
Once you get here…
Listen to the radio
Officials will be constantly evaluating the situation, and as service gaps are realized information will be communicated through the radio. Tune into Mix 103.7 or 1005. Cruz FM for the latest instructions on re-entry.
Go to an information centre
The RMWB has set up seven information centres throughout the region to supply you with a welcome kit. The Red Cross is on-hand to register your return and to supply you with a cleaning kit, which includes an N95 respirator mask. Representatives from ATCO, IBC, cable companies, and more are available to answer any questions residents may have in regards to services. Fact sheets are available on how to clean your homes. Also, water and snacks are being supplied.
As previously mentioned, the information centres are open from 8 a.m. to 8 p.m. each day.
Get your gas turned on
ATCO has restored natural gas service to most of the city, but it's turned off in your home until you have an ATCO worker turn it on and re-light your appliances. They'll be dealing with a high level of service calls, so you can register your service call here. The company is warning that this process could take a few days, so registering in advance may be a good idea.
An orange placard will be supplied in your welcome kit, which you can place somewhere visible to indicate to the worker that you require service.
Assess your home
If you're deemed "okay to occupy" by the RMWB fire damage assessment, you can carefully enter your home and examine it for any interior damages. You do not need an insurance adjuster with you, but if you notice any damages it's important to document them through photographs. If your power has been out for an extended period of time according to ATCO, it's a good idea to use duck tape to seal your refrigerator and freezer as food may have rotted badly, affecting the appliance's seal.
If you're incapable of cleaning your home, there are some social profits offering assistance. AEMA Executive Director Scott Long expects most homes can be cleaned and ready for habitation in "short order."
If you encounter ash you're encouraged to wear long sleeves, gloves, your N95 mask, and some form of protective eye wear. The ash in Abasand, Beacon Hill, and Waterways has been found to contain dangerous toxins, so it's best to minimize your exposure. If you're concerned with the amount of ash at your property, you can go to an information centre to request an RMWB official to do a walkthrough to assess the property's safety.
If you find that your home isn't habitable and you don't have alternative accommodations, you can return to an information centre to assess your options.
Help out!
Several social profits are looking for volunteers. If your home is okay and you have some spare time, they'd love some help!
Alright, welcome back! It'll be a long road to normalcy, but we are #ymmstrong.