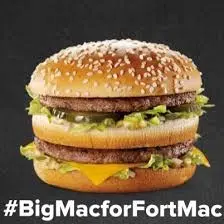 A million dollars can buy a lot of Big Macs.
McDonald's restaurants across the country held a Big Mac for Fort Mac fundraiser over the weekend and raised $1,055,000 for the Canadian Red Cross Alberta Fires Appeal.
More than 967,000 Big Macs were bought and more than $87,550 was collected from guest donations.
The total amount came from $1 from every Big Mac sold and donations May 13 to 15.
Many McDonald's locations are still accepting donations, but people can always donate directly to the Red Cross.