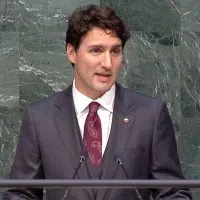 Prime Minister Justin Trudeau was in New York City today to sign the Paris climate change agreement at United Nations (UN) Headquarters.
Canada is one of more than 170 nations represented at the conference, which sets a new record for the most UN member states to sign an agreement in one day.
The treaty has a goal of reducing greenhouse gas emissions and preventing a global temperature rise of 1.5 to 2 degrees celcius that could have detrimental environmental impacts, according to climate experts.
Trudeau spoke about Canada's commitment to renewable energy and the country's emissions targets going forward.
Canada is currently set to see a 30 per cent reduction in greenhouse gas emissions from 2005 levels by the year 2030, a commitment made by the previous conservative government.
Trudeau described that target as a baseline for what is achievable in the coming years, addressing the assembly at the UN today.
He also revealed that his government plans to put $2.65 billion towards helping developing countries combat climate change in the next five years.
"They [developing countries] shouldn't be punished for a problem they didn't create," said Trudeau, according to a CBC News report.
"Nor should they be deprived of opportunities for clean growth that developed nations are now pursuing."
UN Secretary General Ban Ki-moon praised Canada's leadership on climate change action.
The climate change agreement will be tabled in Parliament next month and will be ratified later this year.