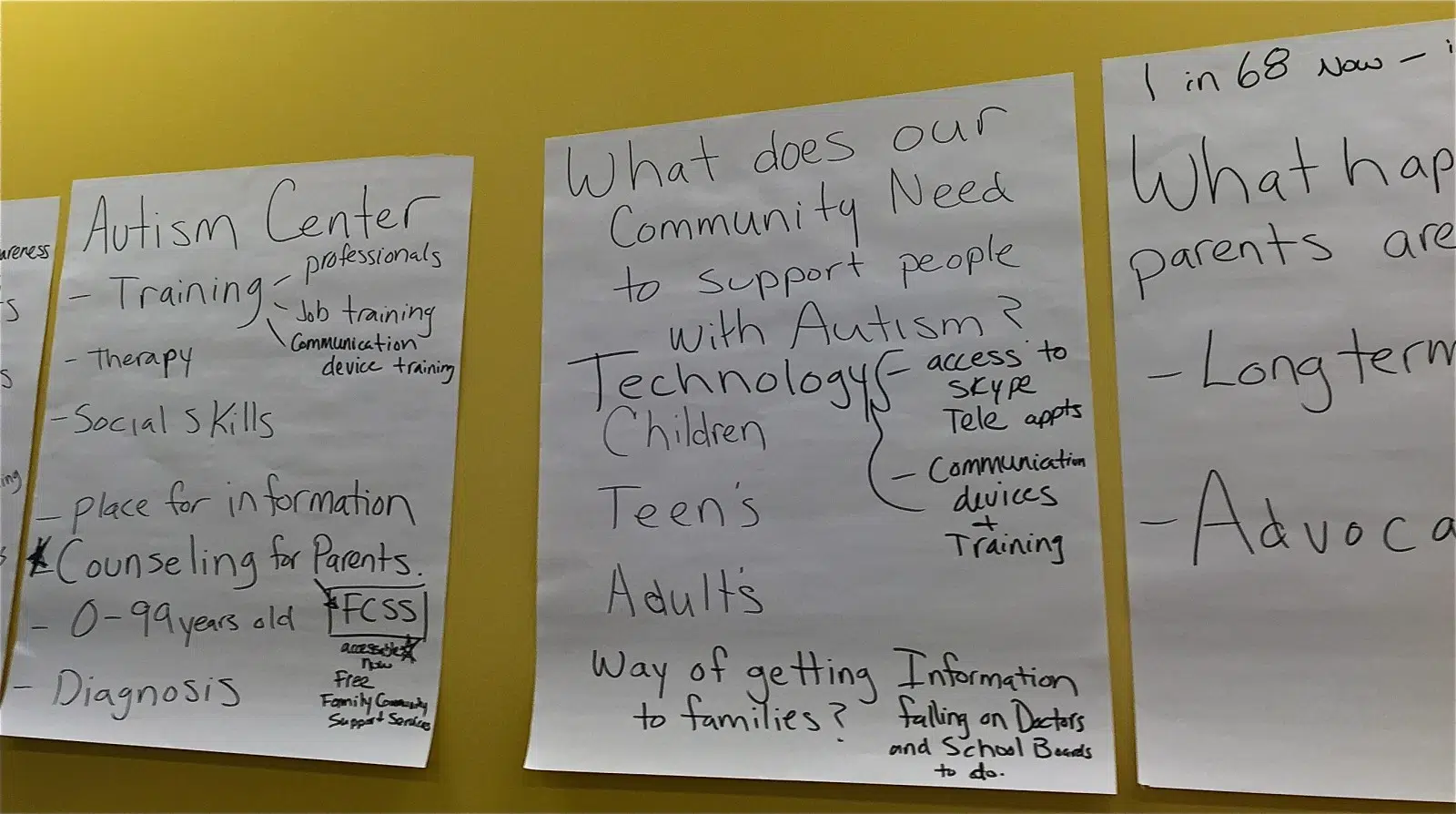 Fort McMurray is not meeting the needs of autistic residents and their families.
That was the resounding message at two public engagement sessions held this week by the local Autism Support Group.
Parents and caregivers of autistic children and adults joined support group administrators, healthcare professionals and public officials to discuss the current state of support services available in Wood Buffalo and what the future could look like.
The aim of the sessions was to gauge the level of need for improved autism services in Fort McMurray.
A wide range of topics were discussed and major concerns raised, including:
Different levels of functioning along the autism spectrum and the unique challenges presented by them
A lack of recreational programs and facilities to accommodate autistic children
No support services for autistic adults (i.e. job coaching, life skills)
The social stigma associated with autism diagnoses
No post-diagnosis educational or support resources for parents of autistic children
Lack of public funding and interest in projects to improve autism services in the RWMB
Quality of life for autistic individuals and their families without the need to travel to larger city centres like Edmonton and Calgary to access sufficient autism resources
Society must learn to adapt to and appreciate autistic people rather than forcing them to conform to a society built to suit the needs of typically functioning brains
Residents want to see autism centre built
A large portion of the discussion centred around the idea of opening a comprehensive autism resource centre in Fort McMurray, a place where autistic people of all ages and levels of functioning could receive the help that they need.
Tasha Moore, who led the focus group sessions with colleague Kirsti Mardell, says her dream is to have a place that addressees the needs of autistic people from cradle to grave.
"One place…from birth to the end of [the] lifespan that people can access for autism, that would be my dream here in Fort McMurray," said Moore, describing her hopes for the future.
All five of Moore's children are on the autism spectrum and she was diagnosed with the disorder herself just a few years ago.
Parents in the meeting expressed enthusiastic support for a facility that would allow their children, toddlers to teenagers, to learn, play, socialize and thrive in an environment built specially for them.
Different abilities, different experiences
Despite the commonalities shared by all parents of autistic children, there remains a stark divide between families with verbal, high-functioning children and those with low-functioning, nonverbal children.
That reality was brought sharply into focus at Thursday morning's meeting when one mother was overcome with emotion describing her nonverbal teenage son.
As the unique challenges faced by each family or individual in the group became more clear, so too did the need for action.
Kirsti Mardell, External Relations Coordinator with the Autism Support Group, would like to see a long-term care or assisted living facility for low-functioning autistic adults in Fort McMurray.
Mardell's 6-year-old son is nonverbal and low-functioning and she says that she wants him to be able to experience a degree of independence and normality when he reaches adulthood, while still being close to his parents.
"He's accessing a lot of services right now because he's young," said Mardell.
"But what happens if he's at the same capacity when he's eighteen to nineteen? There's not much there for him and I don't know what to expect."
The road ahead may be a long one for Fort McMurray's autistic community, but one thing is certain and it is the fact that the desire, determination and, vitally, the need for significant change exists.
For more information about the Fort McMurray Autism Support Group, click here.