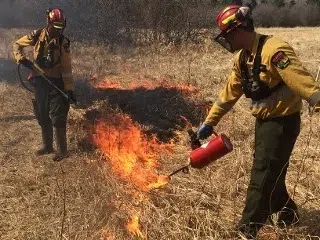 As the temperatures begin to rise, so does the risk of wildfires.
99 blazes have started across Alberta since April 1st, with 8 of those blazes active but under control as of April 15th.
Fort McMurray Forest Area officials are taking all necessary precautions to prevent fires from starting in Wood Buffalo, with controlled burning over the next month in five particular areas: Anzac, Gregoire, Poplar Creek recreation area, Saprae Creek and around Stony Mountain Road.
The controlled fires will help to mitigate the potential for larger blazes.
Alberta Agriculture and Forestry are reminding residents that fire permits are required for any fires started within Wood Buffalo through October 31st of this year, with the lone exception of campfires outside of the Fort McMurray Urban Service Area.
Wildfire prevention tips from the department include refraining from flicking cigarette butts onto the ground and ensuring that campfires are extinguished properly by soaking the flames, stirring the ash and soaking once again.
Fort McMurray's wildfire hazard level is currently low.
Photo Courtesy Government of Alberta