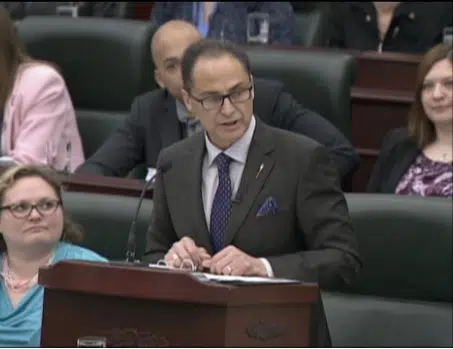 It's an expensive provincial budget for 2016, but Fort McMurray will be seeing some benefits.
Finance Minister Joe Ceci unveiled the document in the legislature on Thursday afternoon, dubbing it the "Alberta Jobs Plan." The budget includes a $10.4 billion deficit, with a plan to balance government books by 2024. The provincial debt is set to reach $58.4bn by 2019.
Fort McMurray is receiving some much-needed capital investment though. The Northern Lights Regional Health Centre is getting $42m over 3 years to finance repairs, while $18m will go towards urban area upgrades. Altogether, the region will be receiving $250m in capital funding from 2016-2021.
"There's some good news for sure," said Mayor Melissa Blake. "Anything that we're not spending out of our own municipal tax revenues is money that goes back into other purposes that we have."
Blake added that after a lengthy debate on the affordability and necessity of Northside Phase 2, having provincial funding for other projects could help the municipality take another look at the project after its scope review. The rec centre portion is currently listed as an unfunded project in the 2017 RMWB budget.
Ceci also outlined the government's tax initiatives for the years to come. His department estimates that the new carbon tax – dubbed a "levy" by Ceci – will cost Alberta families an average of $500. Couples earning less than $100,000 per year and individuals earning less than $51,000 will receive carbon levy rebates. For couples the rebate can be as high as $360, while individuals can receive up to $200. The rebates go up to $540 and $300, respectively, in 2018.
"This is a budget that's going to make things much worse for Albertans," Wildrose Leader Brian Jean said. "It's punishing families and businesses. This is just risky ideological policies of the NDP. They're experiments that have obviously not worked in other jurisdictions and they're not going to work here."
The Fort McMurray-Conklin MLA did praise the government for choosing to lower the small business tax from 3% to 2%, a change that will take effect on January 1, 2017. However, he criticized the planned increase to gasoline taxes, which will come in at 4.5 cents per-litre in the new year.
"We're going to be paying the same price Vancouver pays for gas prices now," he said. "We're producing oil, we're digging it out of the ground in Alberta and we're paying the highest prices in the country for it. There's something wrong with that."
List of capital investments for Fort McMurray:
-$42m for NLHRC repairs over 3 years
-$60m in land exchange with RMWB over 3 years
-$16m in Keyano College campus upgrades over 2 years
-$83m for Highway 63 twinning between Grasslands and Fort McMurray over 2 years
-$31m Parsons Creek Land Development Interchanges from 2018-2021
-$18m in urban area upgrades for 2016