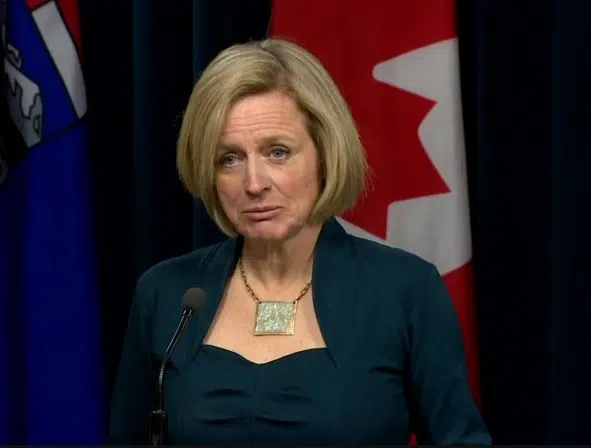 Premier Rachel Notley had some harsh words Monday for a document set to be considered as part of Federal NDP policy in the future.
The Leap Manifesto calls for the end of fossil fuels production within 20 years, and for a moratorium on energy infrastructure like oil pipelines. It was supported by a majority of delegates at the NDP convention in Edmonton on Sunday, meaning it will be discussed in every riding and brought back to the convention in two years for a vote on whether to incorporate the document into official party policy.
"These ideas will never form any part of our policy," Premier Notley said, repudiating the document. "They are naive, they are ill-informed, and they are tone-deaf."
The Alberta NDP leader was asked as to whether her party was considering a split with the Federal NDP, to which they are officially affiliated. Notley said they wouldn't be disassociating themselves, emphasizing that it's not uncommon for provincial branches of parties to disagree with their national counterparts on issues.
The move forward with the Leap Manifesto drew swift criticism from many prominent Albertans.
Wildrose Party Leader Brian Jean called the document "anti-Alberta" and said the successful vote proved that the Notley government's attempts to create social license for the energy industry have been unsuccessful.
"In her own city, she failed," Jean said of Notley's attempt to turn the NDP away from the document.
Premier Notley fails to get 'social license' for pipelines – from the #NDP.
Disappointing.#ableg #wrp

— Brian Jean (@BrianJeanWRP) April 10, 2016
Notley tried to downplay the significance of the vote to have discussions over the document, emphasizing that it hasn't been adopted.
"We will engage in that discussion," she said. "And we will make darn sure that the points I made at convention are heard from Nanaimo to Cape Breton and everywhere in-between."
The premier also put to rest any notion that she would run for the Federal NDP leadership after Tom Mulcair was ousted in a leadership review vote Sunday, saying she loves Alberta and is committed to serving the province.