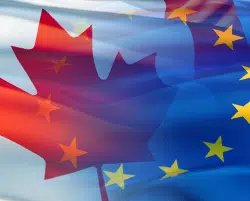 The European Union says it will impose travel visa requirements on Canadians if the Trudeau government does not lift its own restrictions on Bulgarians and Romanian by April 12th.
EU officials say that they are required to reciprocate in order to maintain solidarity amongst member states.
The tense situation comes at a time when Prime Minister Justin Trudeau is attempting to rally EU support to ratify the Comprehensive Economic Trade Agreement later this year.
How the Canadian government deals with the visa issue could have significant bearing on the outcome of the trade negotiations.
If Trudeau does not lift the Romanian and Bulgarian visa restrictions by Tuesday, there will be a mandatory six month buffer period during which EU foreign ministers or members of the European Parliament can overturn the decision to impose similar restrictions on Canadians.
Failing that, the new visa procedures will take effect within 90 days of the end of that interlude.