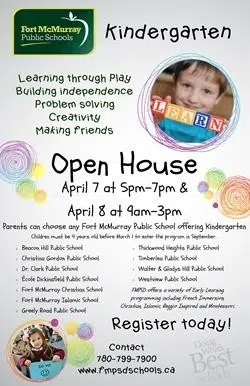 The Fort McMurray Public School District (FMPSD) is offering two open houses this week for children starting kindergarten in the Fall.
Parents and prospective students are invited to visit all public elementary schools that offer kindergarten programs and discover each school's unique environment.
Visitors will be able to tour the schools, meet the teachers and administrative staff, and register their child(ren) for classes in September.
The first open houses will be held tonight, April 7th from 5 p.m. to 7 p.m., with the second round happening tomorrow, April 8th between 9 a.m. and 3 p.m.
For more information on the open houses and participating schools, visit the FMPSD website.