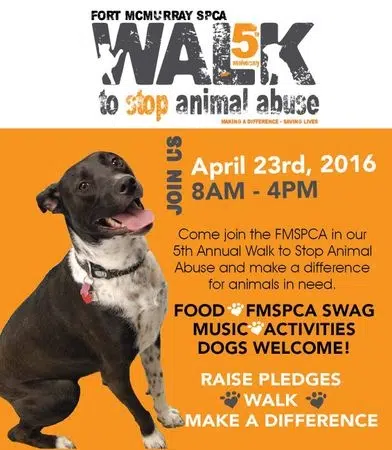 There's an event coming up that both and your four-legged friends can enjoy.
The 5th annual Fort McMurray SPCA Walk to Stop Animal Abuse is happening on Saturday, April 23rd from 8 AM to 4 PM.
Interested participants can collect pledges to raise funds that will go towards providing abused animals with top-notch medical care and rehabilitation before they are adopted.
Tara Clarke, Executive Director of the FMSPCA, revealed that Fort McMurray is very unique in its efforts to help abused animals.
"Outside the province of British Columbia, Wood Buffalo is the only region in Canada to date to have proclaimed an animal abuse prevention day," says Clarke.
There will be a full lineup the day of the event, starting off with a Pupcake breakfast hosted by local firefighters, speeches, a barbeque, and live entertainment.
The funds raised will go directly into the Isabella Paws Fund to help treat abused animals.
"The fund was named after a 12 week old puppy named Isabella, who was rescued by the Fort McMurray SPCA whose injuries were the worst case of animal abuse the SPCA had seen," says Clarke.
Clarke shared that Isabella has since been adopted into a loving home and will be at the walk, which she attends each year.
For more information on the walk and how you can get involved, you can find a link here.